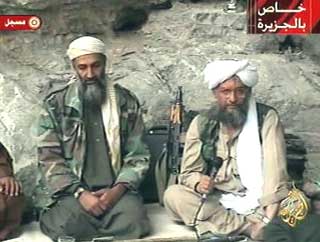 Ayman al-Zawahri to head al-Qaida following Bin Laden's death
He is the son of an upper middle-class Egyptian family of doctors and scholars. His father was a pharmacology professor at Cairo University's medical school, and his grandfather was the grand imam of Al-Azhar University, a premier center of religious study.
The announcement was posted on Thursday on a website known to be affiliated with the terror network.
SOURCE
Meanwhile..........
Radical Muslim cleric Abu Bakar Bashir has been sentenced to 15 years in prison after a trial on charges of sanctioning and funding a jihadi training camp that brought together terrorists from almost every known Indonesian extremist group.
The masterminds behind the camp in a remote area of westernmost Aceh province allegedly planned attacks on foreigners and assassinations of moderate Muslim leaders such as Indonesian President Susilo Bambang Yudhoyono.
SOURCE
ETA - here's the BBC on the new AQ leader:
In his message last week, Zawahiri applauded the Arab uprisings against "corrupt and tyrant leaders" and urged those involved to continue their "struggle until the fall of all corrupt regimes that the West has forced onto our countries".
Remarkable how close that is to Mike Rivero's position. Which is intriguing, because Rivero and co (the patriots and conspiracists) imagine AQ is an arm of American policy - which they are supposed to be against.
So here we have another paradox of the conspiracist view - that AQ apparently supports the Arab/African uprisings, even as US policy opposes the protests and supports the regimes (AQ say such regimes have been 'forced onto our countries by the West'!).